We're thrilled to announce the new digital publication, and immersive story of our ISGRJ and sponsored research projects!
These projects and initiatives housed administratively at or affiliated with ISGRJ contribute to the Institute's overall direction and vision regarding the need for a humanistic, interdisciplinary, systems approach to examining racialization and racism.
The Institute works together with primary investigators to support, encourage, advise on, and help generate collaborative, interdisciplinary, research projects designed by ISGRJ's Campus Directors and other Rutgers faculty. These projects include ISGRJ signature research projects, Rutgers research initiatives and research partnerships.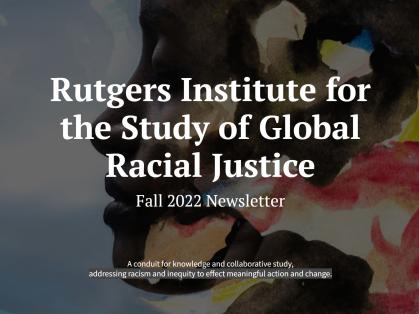 It is with great pleasure that we share the publication of the first edition of our newsletter.
Here we are chronicling and reflecting on all of our signature projects, initiatives, programs and people who have begun the journey with us, in the first 2 years of our existence, one quiet and planning, the other launching and live.
Thank you so much for your generous support in this first phase of our launch as an important presence on the Rutgers campuses!
We congratulate the New Jersey Institute for Social Justice, its President and CEO Ryan Haygood and its Economic Justice Program Senior Counsel and reparations advocacy lead, Jean-Pierre Brutus, on the launch of the New Jersey Reparations Council. Co-chaired by Taja-Nia Henderson (Rutgers Graduate School-Newark Dean and Rutgers Law School Professor) and Khalil Gibran Muhammad (Harvard Kennedy School and ISGRJ consultant), the council is the first-of-its-kind to confront New Jersey's deep and often overlooked involvement in slavery. In this unique collaboration between leading experts from various disciplines, many of whom are Rutgers and ISGRJ-affiliated,  the Council will be composed of nine committees, each of which will address an aspect of the enduring impact of slavery in New Jersey. Watch the launch of the council here.
View the flyer that explains the what and why of the Council
Join the Council's first virtual public session, led by our History of Slavery in NJ Committee, on Tuesday September 26th at 6:30pm ET!