Mentorship Mosaic Program
The Rutgers-ISGRJ Mentorship Mosaic Program is an essential feature of the institute's mission to advance research in global racial justice and to contribute actively to the diversification of the academy. The program is conceived as linking scholarship with mentorship and the building of communities of care. It is designed with the goal of nurturing scholars who are humanistically inclined, and who have chosen to work on topics dealing with race, racism and inequality in their respective fields. Connecting them to a mosaic of resources, people, programs, and scholarly approaches, our goal is to create a pipeline of support at multiple stages of their careers. We also hope to contribute to a broader, more cohesive culture of mentoring throughout the Rutgers community.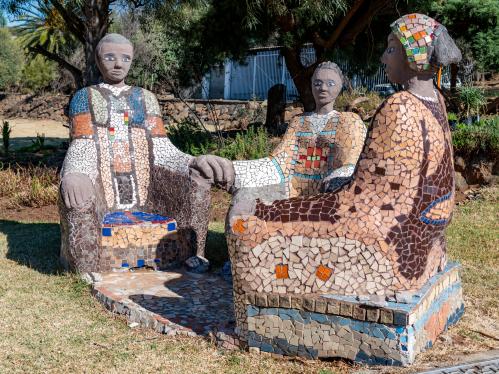 The Rutgers-ISGRJ Mentorship Mosaic Program provides targeted career advancement support and complementary mentorship for early career faculty of color and scholars of race and racism. All ISGRJ faculty fellows – postdoctoral, early career and named term chairs -- are invited to attend a humanities seminar on Race, In Theory, with monthly visits from Rutgers faculty in related fields to the Understanding Race series; and monthly get-togethers with ISGRJ's Founding Executive Director to discuss professional and scholarly issues. ISGRJ Postdoctoral Fellows also attend a weekly seminar that includes The Writing Worktable, a workshop on scholarly writing modeled on antiracist pedagogy that includes 1:1 work with a faculty peer writing consultant. Postdoctoral Fellows are also assigned an Institute Director-mentor who provides a point of contact for their work.
All fellows are registered in the Rutgers Connections Network program, which offers access to a suite of options for targeted mentorship support as needed including: pairings with peer or senior scholars for 10 months in monthly 2 hour meetings; enrollment in the Early Career and Racial Equity (E-CARE) Program, a 2 year cohort program that offers workshops; career development planning; writing retreats; milestone assignments; peer to peer mentoring and accountability groups; 1:1 coaching support; and a senior faculty mentor who will serve as a Faculty Success Partner engaged in 1:1 mentoring and facilitating connections to other faculty sponsors. Other mentorship options include: office hours with Institute Directors; discipline-specific mentoring; mutual mentoring grants; assigned department mentors; and ISGRJ funded support for external disciplinary mentors to aid with professional development and research writing.