Collective Yearning: Black Women Artists from the Zimmerli Art Museum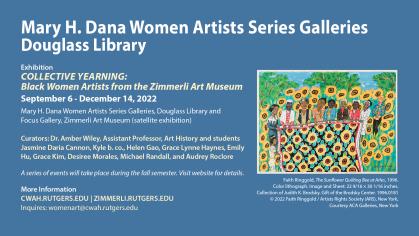 Featuring prints, photographs, and multimedia artworks, this exhibition is the first time the university has conducted a comprehensive and methodical review of its holdings of art by Black women artists.
Many of the artists have ties to New Jersey, New York City, and Philadelphia, ranging from canonical figures such as Rutgers faculty and artists Emma Amos and Kara Walker, to emerging artists Nona Faustine, Atisha Fordyce, and Daonne Huff.
The exhibition is curated by Dr. Amber Wiley, Assistant Professor, Art History, Rutgers University, and her students Jasmine Daria Cannon, Kyle B. Co, Helen Gao, Grace Lynne Haynes, Emily Hu, Grace Kim, Desiree Morales, Michael Randall, and Audrey Roclore.
Artists: Emma Amos, Chakaia Booker, Barbara Bullock, Elizabeth Catlett, Nona Faustine, Atisha Fordyce, Nefertiti Goodman, Daonne Huff, Margo Humphrey, Stefanie Jackson, Carmen Cartiness Johnson, Nadine DeLawrence Maine, Nell Painter, Howardena Pindell, Faith Ringgold, Betye Saar, Lorna Simpson, Shinique Smith, Renée Stout, Sharon E. Sutton (FAIA), Mickalene Thomas, Kara Walker, Bisa Washington, and Carrie Mae Weems.
JOIN US FOR A SERIES OF EVENTS DURING THE FALL SEMESTER!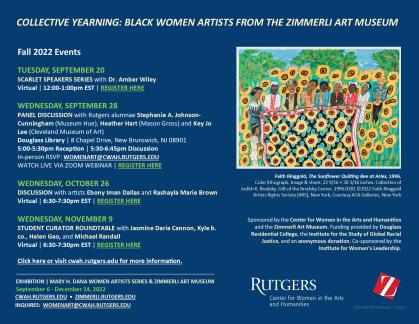 TUESDAY, SEPTEMBER 20
Collective Yearning | Scarlet Speakers Series with Dr. Amber Wiley
Virtual
12:00-1:00pm EST | REGISTER HERE | Event Flyer
WEDNESDAY, SEPTEMBER 28
Collective Yearning | Panel Discussion with Rutgers alumnae Stephanie A. Johnson-Cunningham (Executive Director, Museum Hue), Heather Hart (Artist/Faculty, Art & Design Department-MGSA) and Key Jo Lee (Art Historian and Curator, Cleveland Museum of Art)
Mabel Smith Douglass Room, Douglass Library
5:00-5:30pm reception | 5:30-6:45pm discussion
In-person event RSVP: womenart@cwah.rutgers.edu
*All public attendees must rsvp & register to park on campus or risk citation. Mask & proof of vaccination or negative PCR test required.
WATCH LIVE VIA ZOOM WEBINAR | REGISTER HERE
WEDNESDAY, OCTOBER 26
Collective Yearning | Discussion with artists Ebony Iman Dallas and Rashayla Marie Brown
Virtual
6:30-7:30pm EST | REGISTER HERE
WEDNESDAY, NOVEMBER 9
Collective Yearning | Student Curator Roundtable with Jasmine Daria Cannon, Kyle b. co., Helen Gao, and Michael Randall
Virtual
6:30-7:30pm EST | REGISTER HERE