The Sawyer Seminar at RU-N: Natives and Nativists, Migrants and Immigrants in an American City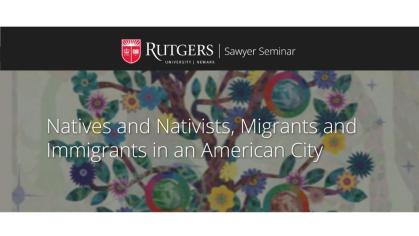 Based at Rutgers-Newark, a university with a highly diverse student body, a highly active scholarly faculty, and deep roots as an anchor institution in the city of Newark, this seminar series will examine the past, present, and future of Newark in order to examine race, inequality, and immigration in the constantly changing immigrant cultures of America's cities.
It comes at an especially critical moment in our nation's history, when race, immigration and inequality can no longer be ignored or sidelined.
In the project abstract, the researchers assert that during the current global pandemic, the future of US cities—of immigration and urbanization; nativism and inclusion; gentrification and urban abandonment—has been thrown into question in a way that has not been true for decades or perhaps more. "Newark, NJ has long been a microcosm of such conflicts, in both reality and in popular imaginations. From the Jewish Newark threatened by US nativism imagined in Philip Roth's The Plot Against America; to the Newark of an African American uprising and white flight of the 1960s and 1970s; to today's Newark of diverse immigrant populations and fraught immigrant politics; to the always-on-the-cusp of gentrification Newark, imagined by developers to be 'the next Brooklyn;' there is no better site to think through the tensions of urbanization brought to light by the COVID-19 pandemic than Newark."
During the Fall 2022 and Spring 2023 semesters, "Natives and Nativists, Migrants and Immigrants in an American City" will comprise of a series of panels and workshops that draw on the expertise and research projects of Rutgers-Newark faculty and graduate students, local, national, and global scholars, and bring together community activists, scholars and local artists who focus on these issues.
Save the dates below and learn more here.